Event Details

>

Checkout

>

Confirmation
Liverpool Sound City 2020 at Baltic Triangle
Friday 1st - Sunday 3rd May 2020
Venue/Location: Baltic Triangle, Liverpool
Doors: 12:00 till 23:00
Min Age: 14

Just can't get over how amazing Sound City 2019 was? We will be bringing even bigger acts to the Baltic Triangle in 2020.
Who's Going to This?
Lineup and Details for Liverpool Sound City 2020
Liverpool Sound City will return to the Baltic Triangle 1/2/3 May 2020.

For 2020, Sound City returns to one of the coolest areas in the country on May bank holiday weekend. Over 300 bands took over the Baltic Triangle last year & this year will see even bigger acts.
Join us for another huge year of the best emerging talent & discovery!
2020 Line up announced so far...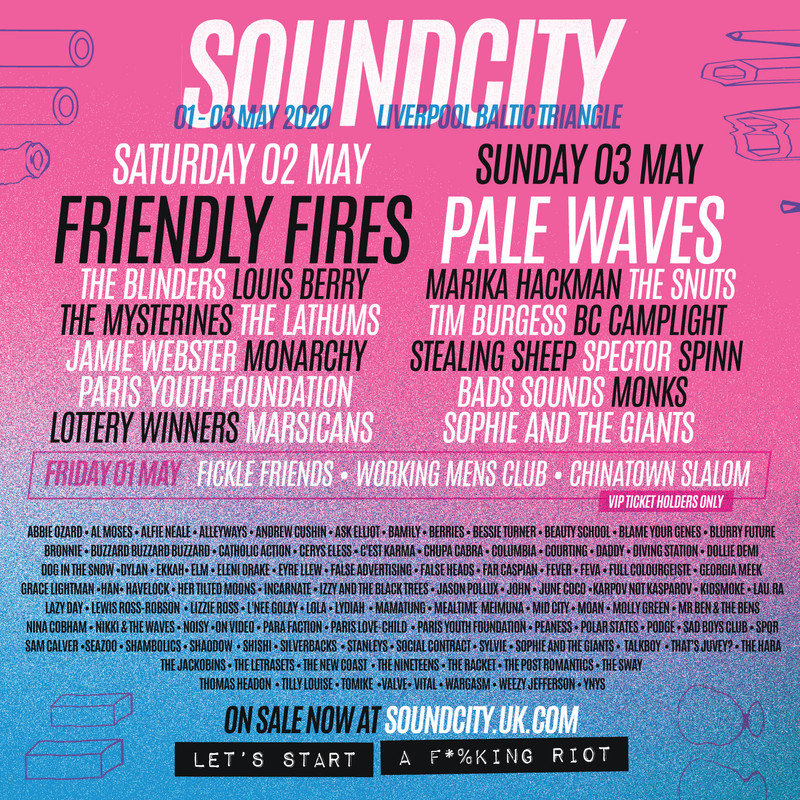 FRIENDLY FIRES
PALE WAVES
MARIKA HACKMAN
THE BLINDERS
TIM BURGESS
LOUIS BERRY
THE SNUTS
BAD SOUNDS
THE LATHUMS
SPINN
STEALING SHEEP
THE MYSTERINES
SPECTOR
JAMIE WEBSTER
THE LOTTERY WINNERS
MARSICANS
MONARCHY
MONKS
JOHN
S.P.Q.R
B.C CAMPLIGHT
WORKING MENS CLUB + FICKLE FRIENDS (SOUND CITY + / VIP TICKETS ONLY)
ABBIE OZARD
AL MOSES
ALFIE NEALE
ALLEYWAYS
ANDREW CUSHIN
ASK ELLIOT
BAMILY
BEAUTY SCHOOL
BERRIES
BESSIE TURNER
BLAME YOUR GENES
BLURRY FUTURE
BRONNIE
BUZZARD BUZZARD BUZZARD
CATHOLIC ACTION
CERYS ELESS
C'EST KARMA
CHINATOWN SLALOM
CHUPA CABRA
COLUMBIA
COURTING
DADDY
DIVING STATION
DOG IN THE SNOW
DOLLIE DEMI
DYLAN
EKKAH
ELENI DRAKE
ELM
EYRE LLEW
FALSE ADVERTISING
FALSE HEADS
FAR CASPIAN
FEVA
FEVER
FULL COLOUR
GEISTE
GEORGIA MEEK
GRACE LIGHTMAN
HAN
HAVELOCK
HER TITLED MOONS
INCARNATE
IZZY AND THE BLACK TREE
JASON POLLUX
JUNE COCO
KARPOV NOT KASPAROV
KIDSMOKE
LAU.RA
LAZY DAY
LEWIS ROSS-ROBSON
LIZZIE ROSS
L'NEE GOLAY
LOLA
LYDIAH HIGHAM
MAMATUNG
MEALTIME
MEIMUNA
MID CITY
MOAN
MOLLY GREEN
MR BEN & THE BENS
NIKKI & THE WAVES
NINA COBHAM
NOISY
ON VIDEO
PARA FACTION
PARIS LOVE-CHILD
PARIS YOUTH FOUNDATION
PEANESS
PODGE
POLAR STATES
SAD BOYS CLUB
SAM CALVER
SEAZOO
SHAMBOLICS
SHAODOW
SHISHI
SILVERBACKS
SOCIAL CONTRACT
SOPHIE AND THE GIANTS
STANLEYS
SYLVIE
TALKBOY
THAT'S JUVEY?
THE HARRA
THE JACKOBINS
THE LETRASETS
THE NEW COAST
THE NINETEENS
THE POST ROMANTICS
THE RACKET
THE SWAY
THOMAS HEADON
TILLY LOUISE
TOMIKE
VALVE
VITAL
WARGASM
WEEZY JEFFERSON
YNYS
Artist Information
Pale Waves
Friendly Fires
The Snuts
The Blinders
Spector
Louis Berry
The Lathums
Stealing Sheep
Bad Sounds
SPINN
Tim Burgess
Ekkah
Peaness
Monarchy
BC Camplight
Catholic Action
The Jackobins
Kidsmoke
Lola (UK)
BERRIES
Eyre Llew
False Advertising
SPQR
False Heads
Venue Information
Baltic Triangle
Jamaica Street
Liverpool
L1 0BS
Music Genres
Alternative, Indie, Rock
The event information, content and images shown have been provided by the event promoter. If you wish to report an issue with this event please click here: Report issue with event
View Liverpool Sound City 2020 on Skiddle.com
View Baltic Triangle on Skiddle.com