Event Details

>

Checkout

>

Confirmation
Village Green 2019: Festival of Arts & Music at Chalkwell Park
Saturday 13th July
Venue/Location: Chalkwell Park, Southend
Doors: 11:00 till 21:00

(Last entry: 20:00)

Min Age: No age restrictions

Your favourite family festival in a park by the sea is back in Essex for 2019! #VG19 celebrates the change that can happen when people come together.
This event has already happened!
This event occurred in July 2019. If you're looking for a upcoming event, try the links below:
View more events.
Who's Going to This?
Lineup and Details for Village Green 2019: Festival of Arts & Music
Village Green is a multi-art form and music festival, produced by Metal Culture in the picturesque grounds of a beautiful Victorian park in Chalkwell, Southend on Sea, Essex.
A variety different stages, green spaces, rose gardens, cricket pitches, pathways and marketplaces offer up a pot-pourri of international music acts, theatre, spoken word, poetry, lindy-hop/ fox trot lessons and displays, outdoor arts, circus and cabaret, vintage acts, musical theatre, visual arts, comedy, improvisation, film, workshops and games all set against the backdrop of the enigmatic estuary.
A key to the success of the festival is the calibre of acts and the diversity of performances, which in previous years has included Wilko Johnson, Sam Duckworth, Stereo MCs, Rag'N'Bone Man, The Asylums, Youth Club, Tiggs Da Author, The Skints, Ballet Black, the Royal Opera House, Molly Nyman Harry Escott and the Samphire Band, Passenger, Billy Bragg, James Taylor Quartet, Camera Obscura, Carleen Anderson, Ed Harcourt, John Hegley and, local boy, Phill Jupitus jumping on stage with the Blockheads. But the strength of the annual festival is its family centred ethos - where children and adults can have fun with strictly NO face painting or bouncy castles – every activity is arts-led.
A short history of Village Green
Village Green was created by Metal in 2008 - a year after we first moved to Southend. We had taken up residence in Chalkwell Hall and were busy renovating it to create a hub for artists, community and creative ideas.
Southend was a town that was full of underground creative energy, sub-cultures, music and an edgy, down-to-earth beauty along the Thames Estuary that is often found where stunning natural landscape meets industry. A large number of arts activities were going on but there was no annual showcase where everyone got together to show off, to each other, and to audiences from further afield.
Those of you who have been to Chalkwell Hall will know that it is in the middle of the beautiful Victorian municipal park, Chalkwell Park – the perfect spot to host a festival and ask everyone to contribute to a showcase of what Southend was up to creatively. And so the first Village Green came into being. To our mind, Chalkwell Park is the urban equivalent of a traditional Village Green and so we called the event by that name to signify the intent behind the atmosphere we wanted to create – a family friendly, creative day that the whole town turned out to take part in.
In that first year, the event attracted an audience of 8000. It was linked into the national Cultural Olympiad celebrations leading up to the games in 2012 and was awarded one of the first London 2012 Inspire Marks. By 2013, audience numbers had reached 31,500 with more than 500 artists from Southend, the UK and overseas – and over 80 Southend community groups – taking part. Audiences were travelling to Southend from all over the south east region.
Safety considerations around audience numbers, and respect for the Park and our neighbours have meant that over the years we have needed to introduce a ticket entry system and other small changes, but the essential essence of the event remains the same – a fantastic and eclectic day of arts and music with something to entertain and surprise - for all the generations of your family.
Ideas like Village Green don't catch on as quickly as it did unless they hit the right zeitgeist of the moment for a town. The Southend community continues to come together to support it, take part in it – and make it the great event that it is. Along with other activity, Village Green and the people who come together to make it happen, has helped to kick-start a buzz about the culture of Southend which has grown and grown over the last 10 years.
BANDS | ART | COMEDY | FAMILY | FOOD | CHAT | DANCE | JAZZ | WORLD MUSIC | THEATRE | PODCASTING | EDINBURGH HIT SHOWS | YOUTH ACTS | GEO-LOCATED ART APPS
TICKETS INFO: Free tickets to carers / Advantage card C holders - see our website for more details or contact us on 01702 470 700
2019 line up announced so far...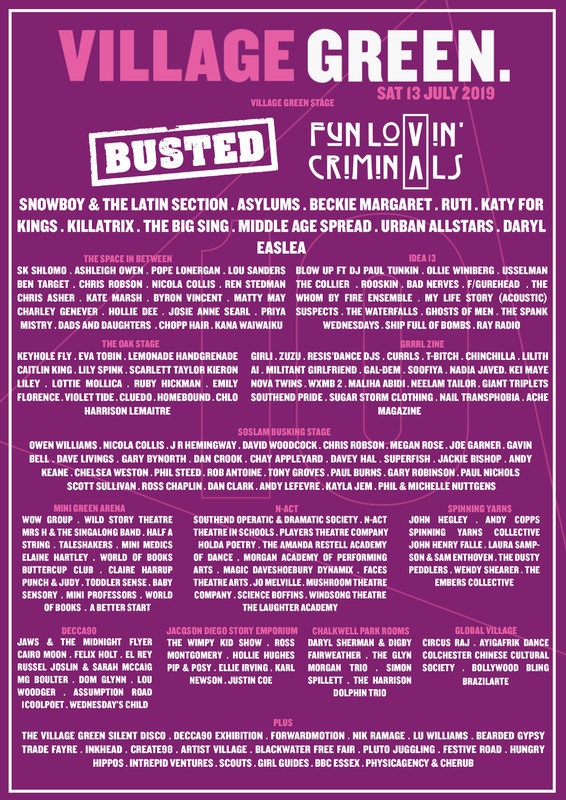 Stage Times
Village Green Stage
11:20-11:50 - The Big Sing
12:10-12:40 - Killatrix
13:00-13:30 - Katy for Kings
13:50-14:20 - Ruti
14:40-15:10 - Beckie Margaret
15:30-16:10 - Asylums
16:50-17:40 - Snowboy & the Latin Section
17:40-18:20 - Andy Bush (Absolute Radio) Special Guest DJ
18:20-19:20 - Fun Lovin' Criminals
20:00-21:00 - Busted
Idea13 Stage
11:30-12:00 - The Spank Wednesdays
12:15-12:45 - Ghosts of Men
13:00-13:30 - The Waterfalls
13:45-14:15 - Suspects
14:30-15:00 - My Life Story (Acoustic)
15:20-15:50 - The Whom By Fire Ensemble
16:10-16:40 - F/gurehead
17:00-17:30 - Bad Nerves
17:50-18:20 - Rooskin
18:40-19:10 - The Collier
19:30-20:00 – Usselman
20:00-21:00 – Blow Up ft. DJ Paul Tunkin
Stage Design by Chloe Spillett
Global Village
11:00-12:00 - Colchester Chinese Cultural Society
12:00-13:00 - Brazilarte
13:00-14:00 - Circus RAJ
14:00-15:00 - Ayigafrik dance
15:00-15:30 - Bollywood bling
16:00-16:30 – Colchester Chinese Cultural Societ
16:30-17:00 - Ayigafrik dance
17:00-18:00 - Circus RAG
Grrrl Zine Fair
13:00-13:30-Militant Girlfriend
14:00-14:30-Lilith Ai
15:00-15:30-Chinchilla
16:00-16:30-T-Bitch
17:00-17:30-Currls
18:00-18:30-Zuzu
19:00-19:50-Girli
20:00-21:00-Resis'Dance DJs
Grrrl X Gal-Dem Talks
12:15-13:00-Soofiyain Conversation with Gal-Dem
13:15-14:00-Nadia from The Tuts in Conversation with GalDem
14:15-15:00-Creative Coach- Kei Maye
15:15-16:00-Nova Twins
16:15-17:00-WXMB 2
17:15-18:00-Maliha Abidi
Grrrl Workshops
11:00-19:00-Giant Triplets Screen Printing
11:00-19:00-Southend Pride
11:30-17:00-Sugar Storm Clothing Customisation
13:00-17:00-Nail Transphobia
13:00-15:00-Ache Magazine Workshop
15:00-16:00-Illustrate your anger with Fem Zine
The Space In-Between
11:00-12:30-Yoga & Movement
12:30-13:15-Cabaret Discussion PT 1
13:30-14:15-Cabaret Discussion PT 2
14:30-15:15-Pope Lonergan's Addiction Clinic with Lou
Sanders & Ben Target
15:30-16:30- Ashleigh Owen - Hip Hip I'm Gay
17:00-18:00-SK Shlomo
18.00-19.25- Special Guest DJ
19.25-19.55- Dionne Bromfield
Soslam Busking Stage
11:00-13:20-Soslam Songwriters Club
13:30-14:00-Davey Hal
14:00-14:30-Chay Appleyard
14:30-15:00-Dan Crook
15:00-15:30-Gary Bynorth
15:30-16:00-Dave Livings
16:00-16:30-Gavin Bell
16:30-17:00-Joe Garner
17:00-17:30-Megan Rose
17:30-18:00-Chris Robson
18:00-18:30-David Woodcock
18:30-19:00-J R Hemingway
19:00-19:30-Nicola Collis
19:30-20:00-Owen Williams
Mini Green Stage
11:00-11:20 | 12:45-13:00 | 14:45-15:00 | 17:30-18:00- Wow Group
11:25-12:10 | 14:00-14:45 - Taleshakers
12:15-12:45 | 17:00-17:30- Wild Story Theatre- The Lost Leigh Goose
13:00-13:50 | 16:00-16:50 - Mrs H & the Sing-along Band
15:00-15:55 | Half a String - A Heart at Sea
Oak Stage
11:30-11:50-Chlo
12:00-12:20-Homebound
12:30-12:50- Cluedo
13:00-13:20-Violet Tide
13:30-13:50-Emily Florence
14:00-14:20-Ruby Hickman
14:30-14:50-Lottie Mollica
15:00-15:20-Kieron Liley
15:30-15:50-Scarlett Taylor
16:00-16:20-Lily Spink
16:30-16:50-Caitlin King
17:00-17:20- Lemonade Handgrenade
17:30-17:50-Eva Tobin
18:00-18:20-Keyhole Fly
Harrison Lemaitre-DJ
N-Act Theatre Stage
11:40-12:00-Windsong Theatre & AFK Productions
12:20-12:40-Science Boffins presents Boffin Dave
12:50-13:10-Mushroom Theatre Company
13:30-13:50-Magic Dave
14:00-14:10-Faces Theatre Arts
14:25-14:45-N-Act Theatre in Schools
14:55-15:15-Shoebury Dynamix
15:35-15:55-Morgan Academy of Performing Arts
16:05-16:25-The Laughter Academy
16:35-16:45-The Amanda Restell Academy of Dance
17:00-17:15-Holda Poetry
17:30-17:50-Players Theatre Company
18:10-18:30- Southend Operatic & Dramatic Society
11:00-19:00-Exhibtion Opening Times
The Village Green Silent Disco
11:00-15:30-Funky Grooves & Family Moves
11:00-11:45-Reggae & Dancehall
11:45-12:30-Funk & Soul - Lavery
12:30-13:15-SKA & Motown - Lavery
13:15-14:00-Disco- Mr Quick
14:00-15:30-90's Club Classics- James Townsend
15:30-19:30-Gather X Sense Traxx House & Garage Takeover
19:30-21:00-UK Underground Sounds
19:30-20:15-Dubstep & Grime DJ Militant
20:15-21:00-Hardcore & Jungle Lee C
TJCUK Jazz Cafe
12:00-13:00-The Harrison Dolphin Trio
13:30-14:30-The Glyn Morgan Trio
15:00-16:00-Simon Spillett with the Harrison Dolphin Trio
16:30-17:30-The Glyn Morgan Trio plus Special Guests
18:00-19:00-Daryl Sherman & Digby Fairweather
19:00-20:00-Evening Jazz Jam
El Rey Decca90 Rooms
13:00-13:30-Lou Woodger
13:45-14:15-Wednesday's Child
14:30-15:00-icoolpoet
15:05-15:30-Assumption Road
15:35-16:05-Dom Glyn
16:15-16:45-William Poyer
17:00-17:30-MG Boulter
17:45-18:15-Russell Joslin & Sarah McCaig
18:30-19:00-Felix Holt
19:15-19:45-Cairo Moon
20:15-21:00-Jaws & The Midnight Flyer
Decca90 Exhibition
All day
Spinning Yarns
11:30-12:10-Andy Copps- The Setting Suns
12:15-12:55-Spinning Yarns Collective- Recycled Tales-Story Slam Part 1
13:00-13:50-John Hegley- Family Wordship
14:00-14:40-Spinning Yarns Collective - Into the Wild
14:45-15:25-Wendy Shearer- Trickster Tales
15:30-16:20-John Henry Falle- The Story Beast Unleashed
16:30-17:00- Laura Sampson & Sam Enthoven - Stories from The White Tree
17:00-17:30-Spinning Yarns Collective- Twisted Tales
17:30-18:20-The Embers Collective - Magic & Mischief
19:30-20:00-Spinnings Yarns Collective - Darker Ever After
20:20-21:00-The Dusty Peddlers
Compere Peter Monk
Inkhead
All day
Jacqson Diego Story Emporium
11:00-11:40- This is my book launch
11:00-12:00 | 13:00-14:00 | 15:00-16:00 - story craft with
Jacqson Diego Story Emporium
11:00-12:00 | 13:00-14:00 | 15:00-16:00 - Pip and Posy
Walkabout
11:40-12:20- Justin Coe: It's a Poem!
12:20-12:40-Karl Newton: I am a tiger
12:40-13:20-Ellie Irving: The Matilda Effect
13:30-13:50- Julie Irwin : Mission Improbable
14:00-15:00-The Wimpy Kid Show
15:10-15:30-Hollie Hughes: Ninjas & Pirates
15:40-16:20- Ross Montgomery: Space Tortoise
16:30-17:00- Jennifer Killick : It's A Mystery, A Funny One
Artist Information
Busted
Fun Lovin' Criminals
Fun Lovin Criminals
Girli
Zuzu
SK SHLOMO
SnowBoy
Dan Clark
Figurehead
Blow Up
David Woodcock
John Hegley
Asylums
Killatrix
BAD NERVES
Suspects
Daryl Easlea
Eva Tobin
Ghosts of Men
Usselman
Dom Glynn
Ruti
Katy For Kings
Byron Vincent
Venue Information
Chalkwell Park
Chalkwell Avenue/ Leigh Road
Southend
SS0 8NB

Phone: 01702 470700
Music Genres
Alternative, Indie, Pop, Rock, World Music
The event information, content and images shown have been provided by the event promoter. If you wish to report an issue with this event please click here: Report issue with event
View Village Green 2019: Festival of Arts & Music on Skiddle.com
View Chalkwell Park on Skiddle.com