Event Details

>

Checkout

>

Confirmation
El Dorado Festival 2019 at Eastnor Castle Deer Park
Friday 5th - Monday 8th July 2019
Venue/Location: Eastnor Castle Deer Park, Ledbury
Doors: 09:00 till 03:00
Min Age: 18

An intimate & enchanting boutique festival from the nation's favourite party starters, Cirque Du Soul. Get your ticket today!
This event has already happened!
This event occurred in July 2019. If you're looking for a upcoming event, try the links below:
View more events.
Who's Going to This?
Lineup and Details for El Dorado Festival 2019
Tickets on sale Thursday 31st January!
For centuries intrepid explorers have searched the world over for the lost kingdom of El Dorado, a land believed to have streets paved with gold, layered with lakes of fresh water and luscious green jungles - a land so beautiful you will never want to leave.
At the beginning of July, the golden gates of El Dorado will open for the fourth time revealing a new weird and wonderful playground nestled amongst the hills of the beautiful English countryside.
Join us and other like-minded Explorers as we escape everyday life in search of something far more exotic.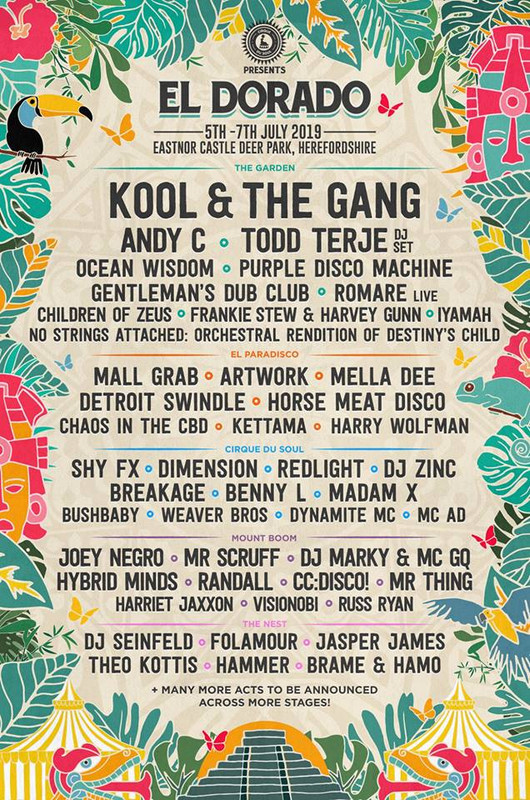 The Garden
Kool & The Gang
Andy C
Todd Terje (DJ Set)
Ocean Wisdom
Purple Disco Machine
Gentleman's Dub Club
Romare
Children of Zeus
Frankie Stew & Harvey Gunn
Iyamah
No Strings Attached: Orchestral Rendition of Destiny's Child
El Paradisco
Mall Grab
Artwork
Mella Dee
Detroit Swindle
Horse Meat Disco
Chaos in the CBD
Kettama
Harry Wolfman
Cirque Du Soul
Shy FX
Dimension
Redlight
DJ Zinc
Breakage
Benny L
Madam X
Bushbaby
Weaver Bros
Dynamite MC
MC AD
Mount Boom
Joey Negro
Mr Scruff
DJ Marky & MC GQ
Hybrid Minds
Randall
CC:Disco!
Mr Thing
Harriet Jaxxon
Visionobi
Russ Ryan
The Nest
DJ Seinfeld
Folamour
Jasper James
Theo Kottis
Hammer
Brame & Hamo
sasscienda
New to 2019, The Sassçienda is an intimate and seductive affair, this is no place for the normal so be sure to leave your inhibitions at the door. Hosted by the Twisted Playden, the stage will come alive with Drag, freak shows, burlesque and DJs as the party continues into the early hours…
treasure island
The last ship to discover Treasure Island has washed up on shore, the crew are now left to revel in the riches and dance under the sun. The peoples favourite, our floating stage in the middle of the lake is back bigger and better than ever before. Home to good times, big beats and like-minded people, once ashore you won't want to leave this tropical paradise!
the boudoir
The Boudoir is a little slice of boutique heaven in the heart of El Dorado. Present since day one, this intimate tent showcases yoga, comedy and workshops during the morning before emerging live acts take to the stage to perform throughout the day and night.
tipsy gypsy
The Boudoir is a little slice of boutique heaven in the heart of El Dorado. Present since day one, this intimate tent showcases yoga, comedy and workshops during the morning before emerging live acts take to the stage to perform throughout the day and night.
El Dorado 'What's On' Programme
Rub A Dub Dub
People get dirty at festivals! Very dirty in fact… Fancy a quick wash? Our team of gorgeous Washerwomen will make sure you're sent on your way feeling spic and span – after a jolly good cleaning experience and maybe a tickle or two here or there… This can be as rude or as family-friendly as you wish!
Twisted Play Den
Join us in the Sassçienda each night and find where demure meets darkness and seduction meets sass with Burlesque, Drag, Freakshow, Contortion & Fetish all rolled into a night of hedonism and debauchery.
You have been warned, welcome to The Twisted Play Den
The Gypsy Shrine
The Gypsy Shrine has quickly become one of the most disruptive and influential brands in cosmetics – working with some of the largest retailers and brands in the world. The company has grown rapidly, with a product range of over one hundred, a social following of nearly half a million and a network of influencers with a combined reach of over 10 million.
Since joining us at the first ever El Dorado in 2016, the Gypsy Shrine have stormed the festival scene with their global team of creatives! Turning free spirited festival goers into colourful pieces of art is their thing – they got this! Come find the Shrine this summer!
The Baller's Pit
Get balls' deep in El Dorado this summer!
Reggae Yoga
Kick off your mornings in El Dorado the right way with this perfect pairing of yoga and music.
Festival Favourite Elena is a yoga teacher & arts coordinator based in Bristol, sharing her love of yogic community and experience in the creative body.
No booking required, come find this in the main arena on Saturday and Sunday mornings!
Bingo Lingo
BINGO LINGO is the newest and most exciting breed of Bingo that's sweeping across the UK. We've taken Bingo, shaken all the dust out and turned it into one exhilarating, party, raving, mad bingo night! Created and launched at warehouse venue DEPOT in CARDIFF, BINGO LINGO has quickly become a phenomenon, and we are now touring across UK venues. Prepare yourself for an unrivaled experience of dance-offs, twerking, joke prizes and on stage mischief. Look out for Bingo Lingo in the the Cirque Du Soul big top tent on Saturday and Sunday!
Circus Skills Workshop
Run away and join the circus! Become a real life acrobat and learn how to perform such skills as Aerial Hoop, Silks, Hula Hooping and loads more at the various workshops run by the YouTopia crew across the weekend!
Bizarre Bazaar
Dress to Impress! We have handpicked some of the best festival clothing, garment and accessory suppliers from across the UK. Including Bits & Bobs Vintage, Jack Fruit, The Gypsy Shrine plus many more to explore!
Cirque Du Soul
For the fourth year running Cirque Du Soul host the Big Top!
Roll up roll up.. the circus is back in town!
Cirque Du Soul is a travelling collective energy of colour, magic and dance. Across the country, we create vibrant underworlds built of playful, open-minded partygoers, massive musical variety, weird and wonderful backdrops, and an unrivalled attention to detail unique to urban clubbing.
Entry into these seductive wonderlands is coveted. Aside from its fresh selection of world class DJs and performers, each night is handcrafted and unique to the next – no singular experience is the same.
You have to play by the rules of the circus. Long tails and corsets, top hats and canes, glitter, sequins and feathers, blacks, reds, golds – the boys dress up and the girls dress down.
Cirque Du Soul's signature cocktail of burlesque, bass and uninhibited bohemia has cemented its reputation as the nation's favourite feel-good party with an edge.
Deatbeats
Deatbeats was formed by musicians Neil Armstrong and Ben Mageary with an aim to deliver a noise machine that fused the excitement/power of a live percussion band with the interactive visual theatrics of street entertainment to the club/festival environment. Since its conception at the ill-fated Furness Fest in 2008, Deatbeats has grown in both numbers and popularity, performing alongside acts such as Sub Focus, Krafty Kuts at MONSTER MONSTER nights, Ibibio Sound Machine and Craig Charles as well as appearing at Festivals such as Kendal Calling, Solfest, Beacons and Manchester Academy IllumiNaughty events. Deatbeats strength lies in its unique approach at merging contemporary and traditional rhythms together and its "onslaught of the senses" design along with its versatility, enthusiasm and ultimate desire to "bring the party" to any event it gets its hands on.
Lycra 80s Party presents: Live Aerobics Dance Show!
Welcome to Lycra – An immersive 1980's Party with dancers, sweatbands and AEROBICS ROUTINES pumped in the middle! After their first sell out show in London's Oslo, Hackney, they're now warming up crowds of up to 5000 for Sara Cox's Just Can't Get Enough 80's events and have established parties in London, Cardiff and Bristol. With a brand new hour long choreographed stage show being unleashed, featuring more dancers, circus performers and of course – MORE AEROBICS we can't wait to welcome the crew to El Dorado! Get ready to dance… (and sweat!)
Speed Dating
We all know that electric feeling that pulses through our veins and gets us excited about another wonderful human… Chemistry. It's instinctive! And whether it's platonic, romantic, lustful or otherwise, it's a raw animal drive that gets us all warm and fuzzy…
You Topia Productions invite you to leave your inhibitions at the door and take a walk on the wild side for an hour of raucous, unbridled fun, like nothing you've ever seen before! They'll have you channelling your inner animal as you boogie on down with the coolest cats in the El Dorado hills…
With lewd jokes, lycra, lunging, and loads of surprises, all hashed out to the best bangers from the 70s to the present day, it all culminates in a hilarious surprise ceremony to celebrate the magic that has been created and the connections forged…"
The Provibers
The Provibers recognise that everyone has a positive vibe to bring, and encourage that vibe through dance, games, play, fabulousness and unapologetic silliness – if you provide a positive vibe then you're a Proviber too!
Watch out for The Provibers (they're hard to miss), bringing the silliest, sexiest and sassiest vibes to El Dorado for the second year! Expect a giant slip and vibe slide, a Kruftz style obstacle course, and pop ups at all the best on site parties.
Smokey Tentacles
Smoky Tentacles was born ten years ago as the original shisha lounge on the festival circuit. Their amazing café is a one-off space housed in a custom made Moroccan marquee.
This is a unique chill-out lounge to relax in at any time of day or night. The perfect place for a delicious breakfast, a coffee stop or a late night hang-out with a shisha and friends (up to fifteen different tantalising flavours are served!)
Think rugs, Moroccan lanterns, sofas, bean bags and cushions, great tunes and good vibes to create one of the most popular chill-out spaces on the festival scene.
Smoky Tentacles are committed to running an ethical cafe and source fresh free range, organic and local produce. Teas are organic and fairly traded, their artisan coffee is directly traded and roasted less than a mile from their base in Bristol. Their gourmet cheese toasties are staples and their falafel and halloumi wraps are also to die for!
Love Ceremony
The Love Police are on the hunt for those slacking in the love department. Are you hitting the necessary Love Quota? If not, you could find yourself at the mercy of the Love Police who will hunt you down and deliver you an immediate remedy…
Rocket Yoga
Christina is a yoga teacher, teaching Vinyasa, Rocket and Power Yoga in London. Christina has a dynamic style and energetic practice which she takes into her teaching. Classes are upbeat, challenging, yet playful and nurturing. As an ex dancer Christina's classes are creatively sequenced and heavily influenced by movement and music. Christina teaches all levels and believes that yoga is for everyone.
Christina will be teaching Rocket Yoga and her own sequenced Power / Vinyasa flow. Both classes are open to all levels. Rocket working more into inversions and deep stretching. Power and Vinyasa working more on transitioning and movement. Both building heat and working the body in a playful and holistic way.
Slip & Vibe Slide
-
The Club House
The Club House is the first festival venue dedicated to the ancient sport of winning!
The Club House consists of a multi-purpose tented venue and large outdoor Playing Field. Both provide an imaginative environment where audiences can be entertained while participating in a plethora of sports and games.
Games include Sexy Flexi, Muggle Quidditch, Musical Benches, Synchronised Disco, Volleyball, Badminton, Swing Ball plus loads more!
Overseeing the sports are The Club House mascots, cheerleaders, umpires, PE teachers, lifeguards and our marching brass band. In amongst the games spectators can watch frantic matches, trophy ceremonies and Chariots of Fire slow-mos.
Overseeing everything is the supportive Club House Team dressed in a wild assortment of retro American and English sports clothes, with visor caps and medals adorned with The Club House logo.
The Grand Finale
Make your way to The Garden Stage for Kool & The Gang's headline performance on Sunday night then witness the Grand Finale unfold in true El Dorado tradition…
Hammock Heaven
Hammock Heaven is the perfect place to sit back, rest, recuperate and get your energy levels back up for an evening of partying!
Disney Karaoke
El Dorado Festival favourite DISNEY KARAOKE is back!
Was Disney the best part of your childhood? Not quite ready to 'Let it Go'? Don't panic we're going to make it once again ' A Part of your World'. Come down with the 'Bear Necessities' and 'Be Our Guest' whilst we enjoy a song and watch the 'Colours of the Wind' pass by!
Hakuna Matata
The Fantasy Tribe
Once upon a time, somewhere on top of the rainbow was a magical unicorn. She was wild and free and had the sharpest horn a corn could ask for, but the one thing she missed was company, she became so lonely that the glitter she once sneezed turned to sand. One day, the unicorn peeked through the clouds and caught sight of a gathering taking place on the land below, puffs of glitter floated through the air and the whole party radiated sparkle like she once did. The jaded unicorn decided enough was enough, she hopped up from her cloud, straddled the rainbow and slid down to land to begin her expedition of visiting these colourful clusters and gathering a group of likeminded mythical's such as herself. The unicorn travelled far and wide, sneezing her glitter once more on the mermaids, fellow unicorns, phoenixes, princesses and aliens she met along the way, but the group were still missing one thing; a uniform.. Hence the fantasy tribe was born.
Ru Slack
Well beyond being both the UK's leading and longest running slackline delivery organisation….
Ru-Slack is a social enterprise with the aim of creating social capitalby developing and educating people through the medium of Slacklining.
As a Fellow of the School for Social Entrepreneurs and a proud member of The Institute for Outdoor Learning our goal is to encourage people outside into their environment to engage in something real, with real emotion, real consequence, real purpose and potential to reach beyond themselves, leading to positive affirmation and personal development.
Ale Dorado
We've teamed up with Wye Valley Brewery to create our very own Ale Dorado! Brewed from actual El Dorado hops our golden ale boasts bold tropical fruit flavours, with aromas of pear and watermelon.
Available on tap for you at El Dorado Festival this summer!
Disco Dancing Class
Led by two disco queens – Divina and Tina Brown. These sisters have a mission to share with El Dorado the power of disco dance and to create a vibing dancefloor community. Divina is the eldest sister who is known for her vivacious and powerful personality, whilst Tina is known for being flirtatious and mischievous on the dance floor. These women are here to encourage the audience to let their inner diva or disco king out, and to empower them with classic dance moves from the disco era.
The Circus
Behold the magical wonders of the The Circus. This travelling troupe of misfits will be offering diverse forms of entertainment all across the weekend! Including aerial performers, fire breathers, acrobats and a load more surprises along the way!
The Kraken Freaky Tiki Bar
THIS SUMMER, KRAKEN® RUM INVITES YOU TO DELVE INTO THE DARKER SIDE OF TIKI ONCE MORE AS THE KRAKEN RUM FREAKY TIKI BAR RETURNS FOR 2019.
The history of tiki, its mythological side, has almost become lost amongst the hula girls, grass skirts, cocktail umbrellas and Hawaiian shirts. But trust us, there's something a little freaky going on with tiki.
Kanaloa, the tiki god of evil, death and the underworld, is symbolised by the squid, much like the revered Kraken. There are also cannibals, ghost dogs, wrestling and bone breaking gods. Tiki is shrouded in a multitude of myths and legend.
We will be embracing the esoteric at our cocktail bar. Imagine the giant, mythical Kraken has risen out of the sea to completely engulf a tiki bar with its giant tentacles and dragged it, stools and all, down into the sea.
We want to invite you to step into our sub-sea underworld. Kick back in the Kraken's lair, sample our signature drinks and darkly twisted versions of classic summer cocktails – like the 'Perfect Storm' [Kraken Rum, ginger beer and lime] or the 'Poison Apple' [Kraken Rum, lemon juice, ginger syrup and cider].
Come and join us at Freaky Tiki and you'll soon start to appreciate the darker side of summer.
Twerk Shop
One of the most popular things at El Dorado Festival 2018 is back! World renowned dancer Kitty Campari will teach you to drop down and shake what yo mama gave ya at this Twerk workshop!
Artist Information
Hybrid Minds
Shy FX
Andy C
Redlight
Dimension
Mall Grab
Mr Scruff
Purple Disco Machine
Todd Terje
Horse Meat Disco
DJ ZINC
Mella Dee
DETROIT SWINDLE
Benny L
Folamour
Gentlemans Dub Club
Romare
Joey Negro
KETTAMA
Chaos In The CBD
Breakage
Ocean Wisdom
DJ Marky
Children of Zeus
Venue Information
Eastnor Castle Deer Park
Eastnor Castle
Ledbury
HR8 1RL

Phone: 01625 560 00
Music Genres
Deep/Soulful House, Drum n Bass, Hip Hop, House, UK Garage
The event information, content and images shown have been provided by the event promoter. If you wish to report an issue with this event please click here: Report issue with event
View El Dorado Festival 2019 on Skiddle.com
View Eastnor Castle Deer Park on Skiddle.com